01/02/19
To reach the full potential of what 2019 has for us it will take:
1. Interest
2. Participation
3. Volunteers
4. Support.
Buckle up.... it's gonna be a great year.
12/29/18
As of today we have discontinued our SCLX CONNECT app for Android and iOS.

We first launched the app five years ago to provide an additional place for members to get information and connect. Over the last year we've taken a look at the app and asked, is it still functional and useful to justify the cost? There are a lot of things the app did "okay". There are a few things it didn't do that we wanted. In the end, the app was nice, but for the things it did "okay" we had other platforms to distribute that information on.

It's not all bad news.... we have some good news. This one is for you past and present FORUM users. We know you like to post photos and in the past it's been a multi-step process to do that. You'd have to upload the photo to a third-party, copy and paste the link, etc.

As of today you have the ability to attach the photos and place them anywhere in your post, directly at spacecitylx.com/forum and it works from any device.
For step-by-step visit this forum post.
12/28/18
Hey forum fam..... figured out a way for you to add PHOTOS (and documents) to your post, without needed third-party website. We've enabled ATTACHMENTS here in the forum. This method will work if you are using the forum via spacecitylx.com. (If you are using the TAPATALK app there is an image uploader built into the app.)
Here's the how to...
1. Type your post in the MESSAGE area.
2. Under the MESSAGE area you will see the ATTACHMENTS area.
3. Add your attachments using the ADD FILE button.
4. If you want to put those photos in your post, use the INSERT button.
5. The "code" will be inserted wherever your cursor is in the MESSAGE area. You can copy/paste it to wherever you like.
Here are a few guidelines to remember....
A. Limit 20 attachments per post.
B. Limit 5 MB per attachment (file size).
C. Attachments can be JPG, JPEG, GIF, PNG, TIFF, PDF, TXT, DOC, DOCX, XLS, XLSX, PPT, PPTX
12/27/18
A few weeks ago SOCIAL MEDIA TODAY published an interesting article on forums based on a study that Tapatalk, the mobile-first community platform, conducted surveying more than 1000 Americans. We use Tapatalk to give our web-based forum users access via mobile.
Here is an excerpt from the SMT article and Tapatalk's infographic.
The key findings of the report include:
Nearly three-quarters (74%) of respondents agreed that the integrity of social media sites, such as Facebook and Twitter, has diminished

80% of respondents indicated that they would trust responses on a specialized forum more than those on Facebook

Interestingly, 62% of respondents said that they would support the idea of a means to take their reputation from forum-to-forum to avoid having to re-establish trust in a new space - like an integrity rating for individuals
12/21/18
Hello and Happy Holidays SCLXers!!!! Whatever your plans are - vacation, staycation, guest, or host - we send our best to you for a safe and fun holiday.
2018 ---> 2019
It's our hope that SCLX has been valuable to you in 2018, whatever shape that may take. Maybe it's learning about some mods, finding a trusted vendor, or most importantly to us... connecting with like-minded owners.
Exciting things ahead for 2019. One of which is the reboot of our "Street Talk" interviews. These videos very insightful to the SCLX community at large and help newbies get up to speed on what SCLX is about. If you would like to throw your name in for consideration, reply to this email.
NEXT WEEK
As you may know, we are 100% funded by the generosity of members. Next week we share details on some special, exclusive, swag for those that help support the club for 2019. We know some of you already made gifts this month, or already donate monthly - no worries, we got you.
ONE LAST THING
This is a busy time of year, be sure to slow down and enjoy the things that matter.
All the best!
11/06/18

Rob David

We are back from SEMA 2018 and all I can say is WOW!
FCA and MOPAR made a statement with cool concepts and the 426 "Hellephant" crate engine.
This is our fifth year to be at SEMA and to see the FCA/MOPAR area. Let's dive into some photos!

The past couple years have been heavy on Jeep and RAM. Makes sense as those are some of the most popular vehicles FCA has.
RAM 1500 Big Horn LOW DOWN Concept
MOPAR '18 Durango
The 1320 Dodge Challenger

Over at the Pennzoil area (as you know Pennzoil is factory fill for FCA vehicles) there was this "exploded" Hellcat engine.

Here is a 1937 Dodge pickup restomod by Tommy Pike Customs, compolete with a modern 5.7L HEMI.

Tommy Pike Customs also made this 2019 RAM 1500 complete with an ATV in the bed.

By now you've all seen the 1968 Dodge SUPER CHARGER concept. Here are some unique photos I captured.
Be sure to follow the SEMA Show on Instagram.
10/25/18
Rob David
Credit: The SEMA Show
This year marks the 5th consecutive year I have the opportunity to travel to the Specialty Equipment Market Association show.... also known as SEMA. I still think about that first time back in 2014. I've heard there are over 2500 exhibitors and the new product showcase will have over 3,000 items. That really speaks to the strength of the aftermarket industry.
Here are a few photos from last year. I look forward to seeing what #SEMA2018 has to offer and sharing on our social platforms, so be on the lookout.
https://www.facebook.com/spacecitylx

https://instagram.com/spacecitylx

10/02/18
Since our founding in May 2007 it's safe to say we've seen thousands of owners come and go.
The ones who come and stay... they all have a commonality. CONNECTION. They make a connection with other owners. Some owners move on from the cars that brought them to SCLX but hold on to the friendships.
It's not easy to do. It takes effort. Those that make the effort reap benefits that they never expected.
It's our hope that our monthly events, as well as other events members look to attend, are your launch pad to future friendships.
09/24/18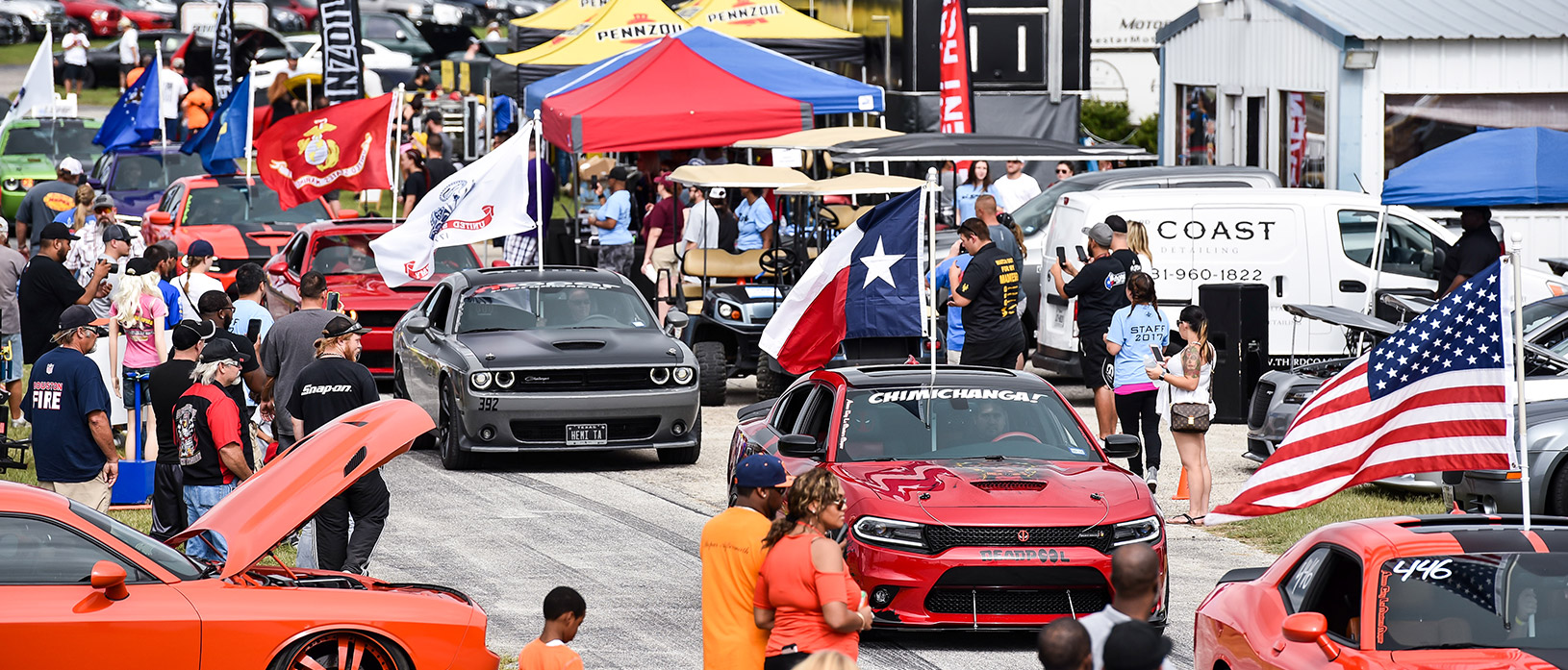 Check out John Hammer's article about Lone Star Mopar Fest over at DodgeGarage.com.
09/17/18
Eleven years ago we started SCLX to provide a way for owners to meet other owners. The founders had met eachother online in LX related forums and figured there has to be more of "us" in the Houston area. So to see this post on Facebook makes us so very happy!
«
Start
Prev
1
2
3
4
5
6
7
8
9
10
Next
End
»
Page 6 of 46